6 ways to style your trench coat
A trench coat is not only an everyday basic piece. With a few simple tips and tricks, turn it in a real fashion statement piece. Due to the classic cut the trenchcoat always fits perfectly to your silhouette and your clothes. This great characteristic also makes it a real travel must-have.
General styling tips
Put up the collar of your trench coat to create a dramatic look. This will turn your evening outfit into an absolute eye-catcher.
For a casual casual look – just slip the sleeves up a bit.
On warm days, you can easily carry your trench open while tying the belt to the back.
If you prefer to keep your trench coat closed, bind it instead of closing it with the buckle.
A scarf always fits your trench. For a slightly different look tuck your scarf once.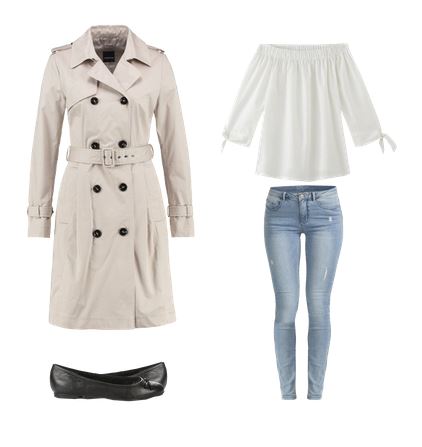 Classic
With a classic outfit, you never be wrong. The advantage is that these classic combinations overcome every age and trend. You will always feel comfortable, no matter what is on your daily schedule.
Combine a white blouse, jeans and plain ballerinas to your trench coat. When you change your white blouse against a striped T-shirt, your look gets even more casual. Personalize your outfit with a scarf and accessories.
* Trench coat – White Blouse – Jeans – Ballerinas *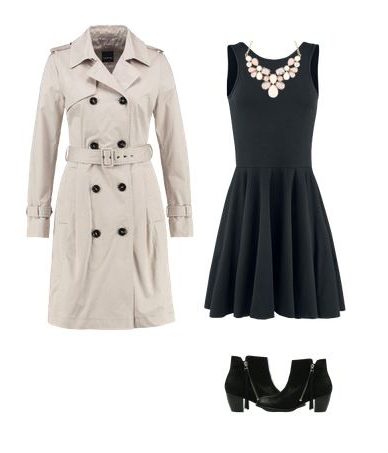 Dressy
There doesn't has to be a special occasion to dress well. Why not dress yourself up without any reason, and see how your self-confidence and well-being rise up to the ceiling? A great outfit creates a black dress, a shining statement necklace and matching trench coat. You don't have to be shy with the necklace.
* Trench coat – Black Dress – Necklace – Ankle Boots *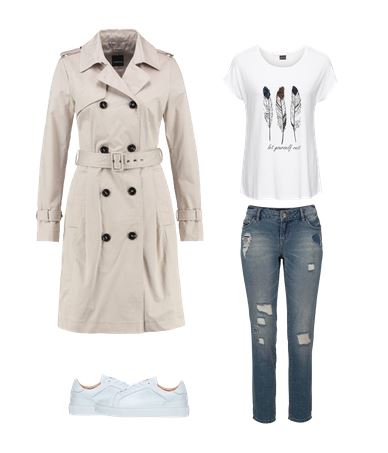 Casual
Casual literally means "easy", "informal" and "relaxed". This can be easily transferred to clothing. Casual clothes are simply, casual and comfortable garments worn in the leisure time. Your trench coat combined with a T-shirt, torn jeans and sneakers will enhance your casual look and give it the certain something.
* Trench coat – T-shirt – Torn Jeans – Sneaker *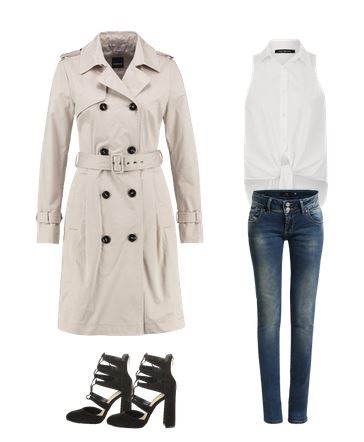 Highlights
The trench coats from Tozy are not only fashionable, but also functional, they have a lot to offer. You can, for example, remove the inner lining in seconds to adjust to the weather without having to replace the entire jacket. The best thing is that you can exchange all the components of the trench coat, therefore you can always adapt it to the latest trends and you can personalize yourself with your style.
* Tozy Trench coat – Tozy Add-Ons – White Top – Jeans – High Heels *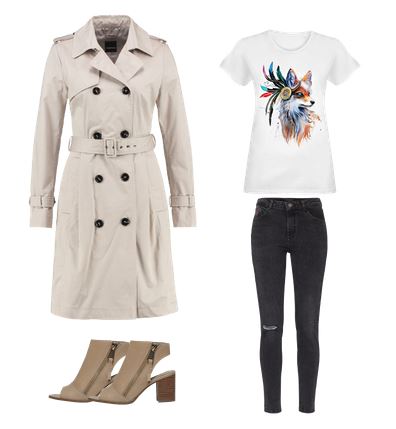 Boho
At the first moment, this sounds a bit slanted. A Boho look combined with a trench coat? The trench, however, is a nice contrast to a printed top, a black jeans and great cut-out boots. Alternatively, you can combine your trench coat with a boho blouse, a tattered jeans and boots.
* Trench coat – Printed Tee – Black Jeans – Cut-Out Boots *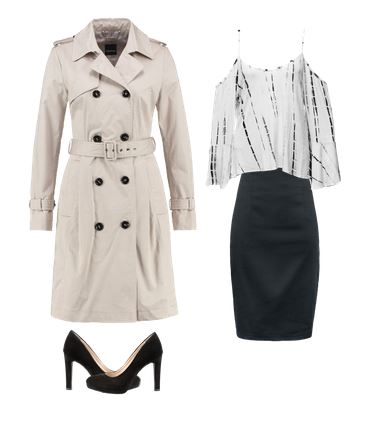 Business
A skirt combined with a trench coat is a great business look. Whether it's an airy A-line skirt or a tight pencil skirt – the only thing you should be careful with is the correct skirt length. Under no circumstances you should choose a too short skirt . If you are unsure, always choose the longer one and then you can go to the bar with the girls after the work.
* Trench coat – Blouse – Pencil skirt – Ankle boots *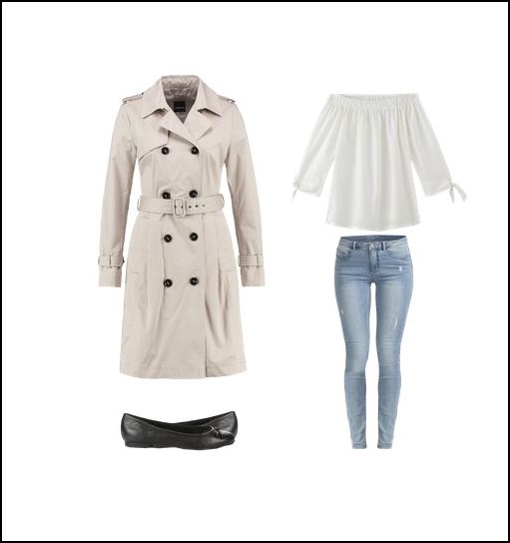 Classic
Trench coat + White Blouse + Jeans + Ballerinas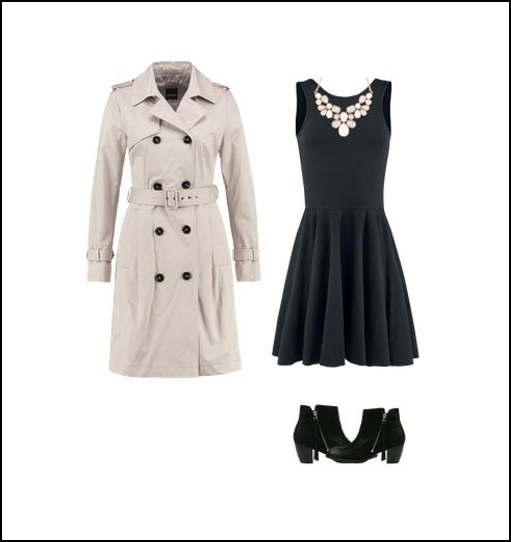 Dressy
Trench coat + Black Dress + Necklace + Ankle Boots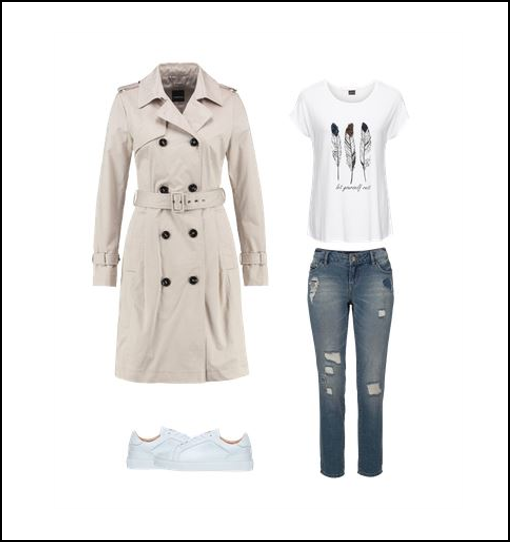 Casual
Trench coat + T-shirt + Torn Jeans + Sneaker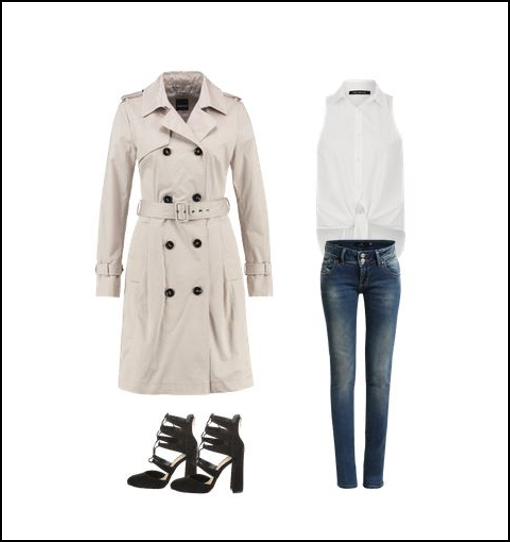 Highlights
Trench coat – White Top – Jeans – High Heels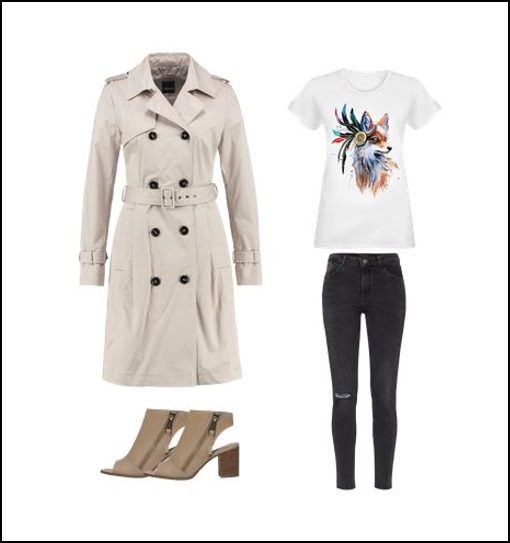 Boho
Trench coat + Printed Tee + Black Jeans + Cut-Out Boots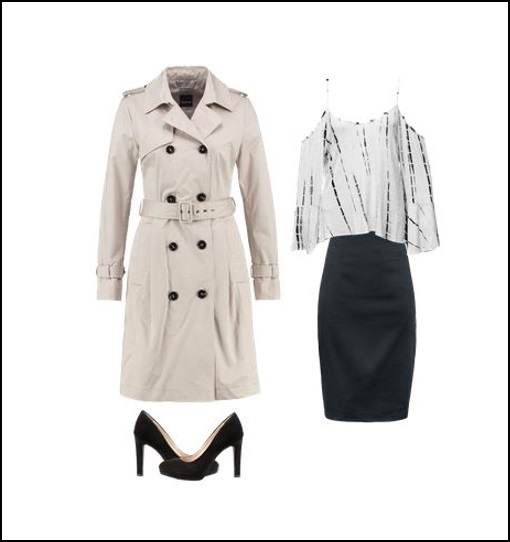 Business
Trench coat + Blouse + Pencil skirt + Ankle boots
Quellen: Stylefruits.de